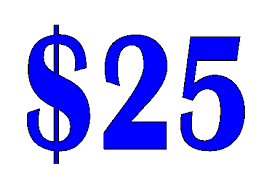 Cash payment to all who attend, on their own or with a friend. Please tell some friends.
Please share these unusual opportunities available through Prof Dr David with friends:
*** >>> You will each be paid $25 cash when you attend a local interview over coffee to hear more about these exciting life improvement opportunities - so come and get paid <<< ***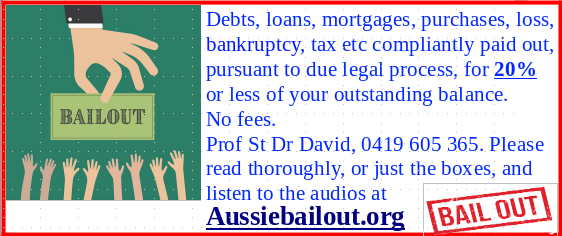 1) As a result of recent legal developments here in Sydney, debts, loans and mortgages can now be paid out for only one fifth, 20%, or less, of an outstanding debt or loan balance. For most people repaying 20% of a debt is much more manageable than 100% and would free up moneys to do other things and achieve their financial goals more quickly. Visit aussiebailout.org to find out more.
2) To help people improve their lives in up to 180 ways by subliminally reprogramming their normally very difficult to access and change subconscious mind, without effort, willpower or concentration, all with a 100% money back guarantee on results. (click scwl.org/SCWLlistA3.docx to see full list)
3) To achieve healing for women with annoying to chronic incontinence issues, without drugs, surgery, pads or exercise in a totally natural way, new to most, and at the same time vastly improve the physical aspect of their relationship or marriage in a revolutionary natural way.
4) For themselves or a friend in Sydney, to make new friends over dinner on Friday and Saturday nights (click davidsdinners.org) at inexpensive conversational social dinners at numerous restaurants and be happy to go on our email notification list to receive event notifications.
5) Dr David G Murphy is Australia's foremost law therapist for litigants in person to assist you in running your legal matters, if you have any, and as a service to the Court. I can arrange a free appointment if you have some legal issues and are interested in some of the other things I have here on offer. Also we have a very effective solution to bullying that you may be experiencing.
6) Dr David is the Founder and Chairperson of STAAG, the Sydney Treatment Alternatives Advocacy Group, (see Minister's letter) if you would like to learn about many denied and withheld Treatment Alternatives in mental health that are required to be provided by law under section 68 (e) of the Mental Health Act 2007 but are withheld in contempt of section 45 of the federal Competition and Consumer Act 2010, giving rise to actionable claims for orders and damages for anti-competitive racketeering, abuse and assault. For a list of treatment alternatives for optimized mental health and wellbeing please go to scwl.org/TreatmentAlternatives.doc
7) To hear and learn about the very new and different Magdalene Christianity and the SHeBible (see covers and write ups at shebible.org), as opposed to Petrine Christianity, which has been the only type of Christianity the world has ever known so far. Would you like to know about Dr David's forthcoming new e-books: Love One Another, Not One Other: The Gospel, Trial and Claims of Mary Magdalene, (scwl.org/GTCMM.pdf), which he wrote with the guidance of Lady Mary herself, and his second book, the SHeBible, (scwl.org/SHeBible.pdf) the first time a Bible has been published where God is SHe, as permissible by two old testament references. His third book will be the 5,000 Verses but the world is not ready for it yet. Talk to him about these three books when you see him about any of the other matters.
8) To learn how to manage your personal finances better (click devfinresp.org) so you won't ever be in so much debt in the future and be able to be saving over 50% of everything you earn by having a successful saving system with the 'lights switched on' so you won't be caught by surprize by bills and debts. Over 80% of people have no system for managing their personal finances and many live under an awful burden of constant debt and need to have a time consuming job just to get some money.
9) To hear about how you can improve your marriage or relationship by the implementation of a common law 'Relationship Agreement' (see scwl.org/RelAgA3.docx) as the 'backbone' of the relationship or marriage so every aspect and issue is covered and agreed upon in writing and the relationship or marriage kept at its best with the greatest degree of security and agreement for each predetermined and agreed upon period of time, with renewal party celebrations at renewal times for you and your couple friends who are each doing their own Relationship Agreements.
10) To learn about how you can reinvigorate the physical aspect of your relationship or marriage back to where it was when you both first met, and even better. Learn about the 'O Shot' and the 'P Shot', vampire facials, a natural by-product cure for female incontinence and much more, and how you can ultimately enjoy these procedures for no net outlay. Ask to see Dr David's pink folder.
11) To learn about a true and proven way to read and understand the Bible in a way that may never have been explained to you before so you can have greater assurance and confidence in God's plan and direction for your life in these foretold rolling pandemic times and get to know God's love and power, forgiveness and guidance in your life. (Click scwl.org/HowToReadTheBible.html)
12) To see the little known Australian Bureau of Meteorology study (scwl.org/gwasn.html) and learn the reassuring truth about global warming, as far as Australia, and by extension the world, goes, from the ABOM data over the past 170 years, and learn how you can be paid well for your participation.
13) I have some 50 negotiable invited and served invoice securities which can be bought for 15% of invoice value, ranging from $200,000 to $3.9 million, meaning each can be obtained for only 15%, i.e $30,000 to $600,000, to, for example, buy a property and secure title, in effect for only 15% of the sale price. Then we can pay out the 15% for only 20% of the 15% which means your property comes at a net cost of 3% (20% of 15%), i.e. a $4 million property for only $120,000. A step down can reduce this to a net $24,000.
14) To learn, if you are a person who wants to learn of a simple, mechanical weight loss process (scwl.org/wlg.html) that requires no effort, concentration or willpower, no exercise and no dieting, where you can still eat in moderation and lose weight to achieve your weight loss goal in a matter of days, weeks or months where .35 of a kg per day, 10 kg per month, is automatically achievable. This process, when combined with the revolutionary new liquid 'Sauces for Weight Loss Saucess diet' and the juice diet so you will be 'juict' right, is a very effective, delicious process.
15) Besides running Dr David's Weight Loss 'Sauces for Saucess', Dr David is also head teacher at his Dr David's Masturbation School for Women (drdavidsmasturbationschool.com).
16) A holiday or as many holidays as you like for 2+, or for even 1, for peanuts at a destination of your own choosing, merely for helping people have their debts, loans or mortgages paid out for just 20% of their outstanding balance or meeting with me to discuss these 20+ opportunities, who will say no to that? Your friends will thank you and want to reciprocate in some way – and the same offer is extended to them. Enquire further when you claim your $25 when we meet up.
17) Would you like to know how to naturally remove blemishes etc from your skin. Ask at the meeting when you ask about some of the other points and claim your $25.
18) Please ring me, Dr David, if you would like to obtain Ivermectin and Hydroxychoroquine for current and future Covid releases.
19) For a further list of treatment alternatives for optimized mental health and wellbeing please go to scwl.org/TreatmentAlternatives.doc
20) To learn about how, after a very long detour, the mantle of the hijacked and now 'jaded' Revolution has lawfully and dialectically changed shoulders to a new ideological financial Champion of the Revolution and subject moneys have been enliened and changed hands and become available, according to the accrual method of accounting, by way of the dialectic Coronalien (scwl.org/Coronalien6.docx), to pay out debts and redistribute moneys worldwide to those meritorious and needful.
For further details and to ask initial questions and make a time to meet up and be paid your $25 please ring Professor / Doctor David on 0419 605 365. Website: scwl.org/DrDavid.html
Meetings can be conducted by phone or on Zoom.
Numbers 1 to 20 are specialities of the Magdalene Temple.